30-day safety report for:
movistar.es
Potentially Active Malware!
During the last 7 days potentially active malware was detected on this website and a subdomain.
(updated Oct 23, 2014 GMT)
Types of Malware Found 3 ?
Website Popularity
VERY POPULAR
Server Location
Spain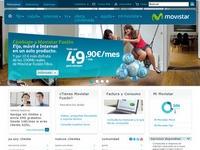 The results provided by this website are provided on an "as is" basis with no warranty as to accuracy or completeness. You acknowledge by using this website that you have read and agree to the terms and conditions available here.